Large diameter, thin and heavy wall thickness pipes in carbon, stainless steels and clad materials
Application:
1- Slug Catcher and relevant utilities
2- Pipelines / Process pipe units (Sour and non-sour service)
3- Refineries
4- Gas Compressor stations
5- Chemical and Petrochemical Plants
6- Oil and Gas Treatment Plants
7- Power Plant Construction
8- Offshore Oil, Gas and Wind Construction
9- Civil Constructions
10- Harbour Construction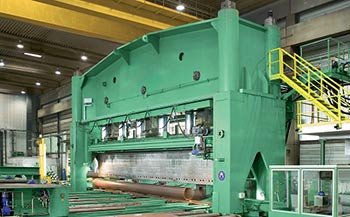 The CNC controlled JCO forming Press , optimised for High forming accuracy and efficiency is the heart of the production line .     
SAW TECHNIQUE
( Submerged Arc Welding )
A welding Technique up to 5 wire
We are able to offer wide range of products around SAW pipes complete package through our reputable well known Manufacturer.
Our Success is to find constantly new solutions to transform them into reality.
The satisfaction of our clients in various projects and the acceptance of our services prove our leading market position .